TABLATURAS TECNICAS DE GUITARRA FLAMENCA
---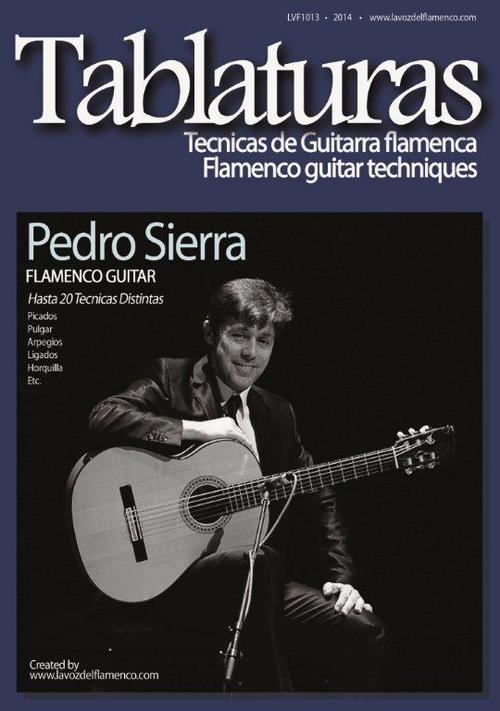 ---
6.00 EUR
Tablaturas de las Técnicas de Guitarra Flamenca de PEDRO SIERRA

Después de muchos años de experiencia, he llegado a la conclusión de que la técnica en la guitarra es fundamental para el avance del guitarrista, sin ella seria imposible poder interpretar la infinidad de composiciones creadas para el flamenco. La técnica para la guitarra se basa en arpegios, pulgar, alzapua, picados, trémolos, ligados, etc. ¿que ocurre cuando practicamos técnicas de una manera descontrolada? pues que el resultado no es el mas optimo, por esa razón esta primera entrega de "Técnicas de la Guitarra" creada por Pedro Sierra es una serie de ejercicios básicos y sencillos los cuales están grabados y mezclados en el orden cronológico en el que deben practicarse, siguiendo el orden de la grabación el calentamiento de ambas manos va en crecimiento debido a seguir dicho orden. Otra de las razones de porque es acertado la grabación de este CD es porque, el guitarrista se olvida de recordar que orden deben tener los ejercicios y además también la velocidad de la claqueta para cada ejercicio. Con solamente darle al Play ya estas comenzado a estudiar y llegando a hacer una hora de practicas, ya estarás lo suficientemente en dedos para poder tocar tus composiciones favoritas. En esta revista están los cifrados de todos los ejercicios. Espero que disfrutéis de esta entrega y os podáis beneficiar de estos ejercicios.

Un Saludo de Pedro Sierra.

After many years of experience I have the come to the conclusion that study of technique is essential to the development of the flamenco guitarist. Without technique would it be impossible to interpret the multitude of compositions created for flamenco guitar. Technique for the flamenco guitar is based on arpeggios, alzapúas, picado, tremolo, thumb, slurs, etc. What happens when we practice technique without control? The result is not optimal. For this reason I present this first installment of "Guitar Techniques" created by Pedro Sierra. It is a series of basic and simple exercises recorded and mixed in the chronological order in which they must be practiced. Following the order of the recording, both hands will be warmed up and developed simultaneously. This CD is also useful because the guitarist often forgets the order of which the exercises should played as well as the speed of the metronome for each https://www.tradebit.comt by pressing Play you will have begun studying, and before you know it you be have practiced for an hour. You will be warmed up and ready to play your favorite pieces and compositions. I hope you enjoy this CD and that you benefit from these exercises.

Best regards, Pedro Sierra.
---
Keywords: guitar flamenco tecnic
File Size: 60.5 MBytes
Do you want to become a reseller/affiliate and get 10.0% provision?
TABLATURAS TECNICAS DE GUITARRA FLAMENCA

guitar flamenco tecnic
277942289
6.00
flamencosampler
Fresh Download
Available!